Koeienkat
| | |
| --- | --- |
| Gender: | male |
| Color: | white and black |
Koeienkat, means Cowcat in English. When you see him you'll know why we call him that: he looks like a Dutch cow with large, black spots on his white fur. But that is where the comparison ends. While a cow is a calm grazer, Koeienkat is not a tom-cat to be handled without a pair of gloves. When he first arrived, he was a bit dangerous. If you got anywhere near him he would hiss at you with all his might with his claws ready for attack.
We estimate than he was born sometime in January of 2007. Koeienhat has been with us since the summer of 2009 so during those 2 years, he was basically a tramp. He must have gotten food from the neighbors because he's definitely not thin. He is a great big teddy bear that you would love to pick up, hug or rumble around with, but this is not recommended. Koeienkat does not like to be pet: hands off! Even if he approaches you and it looks he wants to be cuddled, you have been warned, for he will use his claws and sometimes his teeth.
But in the 'group' of cats he does just fine, not a shred of aggression. Walking around freely agrees with him perfectly. He does as he pleases and feels at home as long as we 'people' don't interfere, and so we don't. We do have to warn visitors about him and sometimes we even lure him into a cage during visiting hours as a safety measure for the visitors. But he can stay here with us. We look after him. Koeienkat is a champ.
Koeienkat is at the moment not really healthy, he gets medicine for his thyroid but he stays thin. He will stay under doctor's control.
July 2017 Koeienkat is now well over 10 years old. And that counts double when you are a 'garden-cat'. Now he is no longer the sturdy, chubby-cheeked tomcat he used to be. He has been troubled with gingivitis inflammation of his gums for quite a while now. He is been treated for the inflammation, but it is very stubboren. Nearly all his teeth have been pulled and he gets medicine. Fortunaly he eats still a lot. Our Koeienkat also receives medicine for his thyroid. Apart from his thyroid values, his blood tests, were in order. He still wants to sit on your lap but is now less feisty than normal. Though he will still hits you when he wants to! He plays 'the Boss' with all the other cats and with us. So nothing changed about that. We do not know for how long Koeienkat will still be with us but one thing for sure is that we will pamper him with all our hearts for as long as he lives.
29-8-17
Sad news about Koeienkat: the vet decided to put him to sleep. It will be quiet without him, literally because Koeienkat always made a lot of noise. Our day rhythm is also gone because it was determined by Koeienkat his pill use. In the morning, the first thing I did was give Koeienkat his pill and than a bowl of food as a reward. He still ate like a construction worker. And in the afternoon, when all the work was done, he got pills again. Koeienkat, we and all the Poezenboot fans are going to miss you a lot. The Poezenboot loses a special and present cat.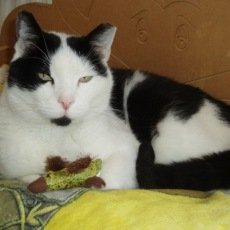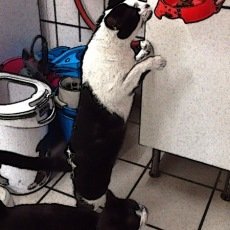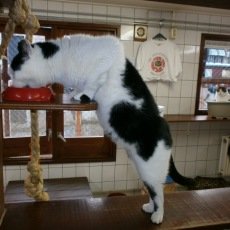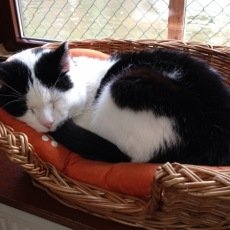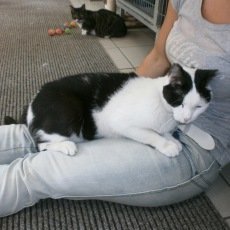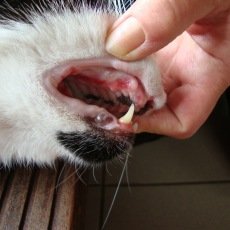 Financial adoption
Click on the following button to donate towards Koeienkat.
In the paypal donation form, please add a note stating the cat you would like to donate.