Toska
| | |
| --- | --- |
| Gender: | female |
| Color: | dark tabby |
Toska is from a house with several other cats, How many we don't know exactly. After several complaints, the authorities threatened to remove the cats from the owner's home. Neighbors helped him bring some of the cats to the Cat- boat and he promised to neuter the ones that were allowed to stay with him. But that simply did not happen. As a result more and more (scared) kittens were born. We kept receiving cats from this man for 2 consecutive years!
Toska was born in July of 2009 and came to us in October of the same year, so she was just 3 months old. In those three months no person had really interacted with her and this is why she is now terrified of people. After about 4 months she was re-homed together with another cat who used to belong to the man mentioned above. This other cat was an adult and less afraid than Toska. Sadly enough both cats were returned to us after 10 months because of emigration issues. As it transpired, Toska had been afraid in her new home too.
Eventually we chose to re-home the other cat when a good place was found for her. Separating friends is something we don't do normally. So, we were delighted to hear that she was doing very well. But we couldn't leave Toska, a cat used to being with other cats, alone in a cage, so we decided to release her into the group of cats who roam the Catboat freely.
This process happens in stages as you can't set a cat free into the group just like that. Slowly Toska became familiar with the cats while still in a cage near the floor. Next the door was opened, and Tosaka was allowed to come and go as she needed. In the first months she was completely released into the group, Toska turned to Cypie for moral support. Funny enough they look alike: the one a female and the other a male version of the same cat.
Nowadays Toska does her own thing and visits other cats as well. She's still on guard with people but seems more relaxed. As long as she can do her own thing, lurk at the seagulls outside, play with the other cats, and as long we leave her be, things work out fine. All Toska wants is to go her own way with lots of other cats around her.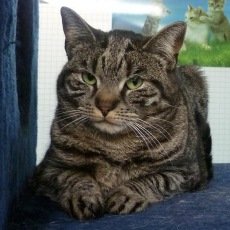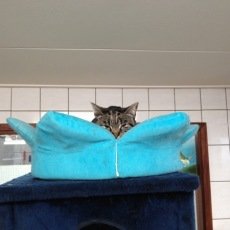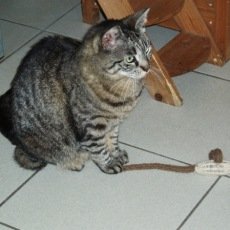 Financial adoption
Click on the following button to donate towards Toska.
In the paypal donation form, please add a note stating the cat you would like to donate.