Kairo
| | |
| --- | --- |
| Gender: | female |
| Color: | pale red |
Kairo is a pale red pussy-cat with a white spot on her nose. She was about six months old when she was brought in our shelter in December of 2006. Kairo comes from a garden complex in Driemond. The cats there were basically only provided with food. She wasn 't exactly skin and bones but did look feral and neglected. A cat who spends the first six months of its life outdoors and has no contact with humans during that time, will always remain afraid of people. Simply because people aren 't really 'safe' for it. Kairo is a cats-cat, has always been part of a colony of cats and feels safe only with her own kind. Together they play, squabble and wash each other.
When it became evident that finding a home for her was not an option, we decided to release her on the boat. In order to do that first we moved her to a lower cage where she could see the other cats. After a while we opened the door and left it open. Kairo was overjoyed in the company of the others. Not a single trace of aggression, everything went well from the beginning.
She is indeed at ease with us but approaching her is impossible. She will just run away and keep her eyes on you from a safe distance. This little female does her own thing: duck- and gull watching mostly, and tries to catch them as well. That will never happen though, not on our boat it won 't, but exciting it is for her. Kairo is doing quite alright.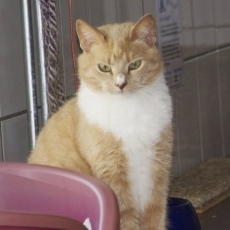 Financial adoption
Click on the following button to donate towards Kairo.
In the paypal donation form, please add a note stating the cat you would like to donate.