Blaka
| | |
| --- | --- |
| Gender: | female |
| Color: | black |
Blaka is a black female. When Blaka was 4 ½ months old she is caught in a garden. She was born in 2009 and was almost a year old when she was brought to us. Until then she had little contact with people. She was very very scared but still approachable, but if you tried to pet her than she would run away. We tried to re-home het once with her cat-friend, but that was not a success. Three weeks later they were brought back to us because they were still scared. They hardly left their hiding spot under the couch for about 3 weeks.
On the boat the situation is totally different. We don't expect anything from the cats and they happily live with many other cats. They can do as they please. With us they're in a situation they're used to. Cats born and raised outdoors will never really turn into 'domestic' cats. But they are at ease on the Catboat. During feeding time some cats even circle around your legs. Blaka is more afraid and will still ignore you but she's happy enough doing her own thing. Of course we keep hoping that with time Blaka will lose some of her fear. We are patient.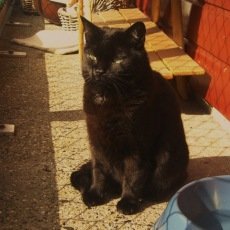 Financial adoption
Click on the following button to donate towards Blaka.
In the paypal donation form, please add a note stating the cat you would like to donate.