Samus
| | |
| --- | --- |
| Gender: | female |
| Color: | crème white |
Samus is a beautiful soft cream-colored pussy-cat, a foundling. When she was approximately 10 months old in March of 2008, she was brought to us along with two other foundlings. She was born outdoors and came to us terrified. She was unapproachable.
And actually she still is, though it has to be said that she seems a lot more at ease now. She walks around freely, plays with the other cats and doesn't run away from us at feeding time. But don't even think about trying to pick her up to hug her. If you get too close, she will run away while still keeping her eye on you.
Samus gets along well with the other cats. This is usually the case with cats that have been born outdoors. Nine times out of ten they become cat-cats and not people-cats. When we are planning to release a cat on our boat we first move it to one of the bottom cages in order to let them get used to the other free cats. With Samus this went smoothly. There were no signs of aggression from or towards her. Once a cat is released it is allowed to go outside to the enclosed edge of the boat. Samus' top sport is to try to fish for ducks, but in this she will never succeed. She does manage to catch rubbish from the canal though.
Samus enjoys herself walking around and playing with the other cats and as long as she can do her own thing she will be just fine. Every once and a while we can tempt her to play with us and chase a toy around. Samus is doing great.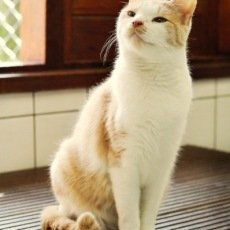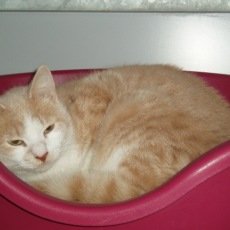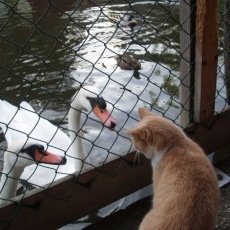 Financial adoption
Click on the following button to donate towards Samus.
In the paypal donation form, please add a note stating the cat you would like to donate.