Valencia
| | |
| --- | --- |
| Gender: | male |
| Color: | black |
Valencia, a black tom-cat came to the Cat Boat from a house of 28 cats! Valencia was almost 2 years old in March 2007 when we took them in. The owner in question never neutered her cats and had no idea why things got so out of control! Well, cats multiply quickly and when kittens remain in a house together, they in turn will produce litters as well within a year. The lady didn't pay any attention to her cats anymore because there were simply too many of them. It proved to be disastrous for all the cats but especially for the kittens born in that house. These kittens were doomed to stay afraid of people for the rest of their lives. Neighbors started complaining and thus the decision fell: the cats had to be evicted. But there wasn't a refuge prepared to take in so many cats at one time especially since not one had been vaccinated, neutered, de-wormed, de-fleaed or chipped. The costs of their treatments would be enormous.
The Cat Boat did take them in because as our founder Madame van Weelde used to say, "After all, where else are the poor things to go."
We received 26 cats. Normally people pay a small contribution when they leave their cat in our care, only this lady was so deep in debt that the Catboat decided to pay for everything. All the cats received a medical check-up, were neutered, vaccinated, de-fleaed, de-wormed and chipped. That didn't come cheap! We managed to rehome all cats except for two, one of them is Valencia. He was extremely frightened and unapproachable. In fact most of these cats were scared because there had been so little human contact, but
In the end we decided to release him from the cages into the general cat group on the boat to see how he would behave. Things worked out just fine: he enjoyed the company of our other cats tremendously, playing with them and slipping outside regularly onto our enclosed balcony to spy on the ducks. There were no signs of aggression between the cats. Valencia, has become the babysitter for many of the new strays and loves to be petted by the volunteers, however, he still never wants to be picked up.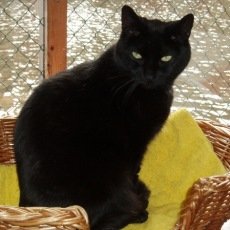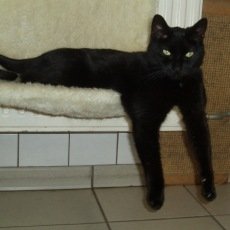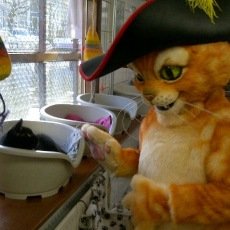 Financial adoption
Click on the following button to donate towards Valencia.
In the paypal donation form, please add a note stating the cat you would like to donate.