Icey
| | |
| --- | --- |
| Gender: | |
| Color: | white tabby |
Icey is a strong, slender,
light tabby tom-cat with lots of white in his fur. He was brought to the Catboat in December of 2010, and was born in May of the same year. Icey was very afraid of people because he spent the first 7 months of his life in a garden. This type of cat will never turn into a 'normal' house cat. Cats like Icey can get use to their own roommates but attempts to pick them up or hug them will fail miserably.
While in his cage we couldn't establish any contact with Icey so it was decided to find out how he would do wandering free on the boat. And this went well from the first minute. He boldly stepped out of his cage onto the floor and immediately felt 'at home'. He was gentle towards the other cats and showed no signs of aggression. He looked at us with a youthful smile as if to say, "You should have done this earlier!"
Icey is a cute cat. We almost found a home for him once, but that didn't work out too well. Unfortunately, if you expect him to be a "people" cat and try to pick him up, this handsome fellow turns into 4 feet of flailing nails and teeth in full panic mode. Who knows, maybe that will pass in time.
At feeding time he constantly circles around your feet and you can even pet him but be careful. Icey takes his own sweet time. And that's okay with us.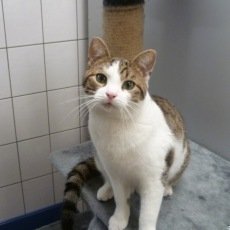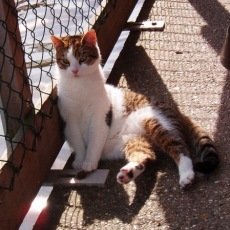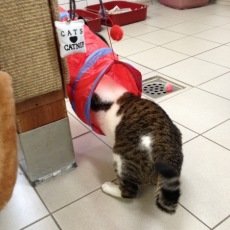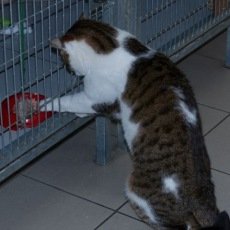 Financial adoption
Click on the following button to donate towards Icey.
In the paypal donation form, please add a note stating the cat you would like to donate.