Borre
Borre is found in the heart of Amsterdam in the vicinity of the Leidseplein. Together with his brother, we're talking 2 half-grown tom-cats that were approximately 4 months old. Borre the light tabby, his brother Bokos died November 2016 by kidney failure.
He was brought to us in October of 2009, only 4 months old. He was unapproachable: hissing, growling and trying to make himselves small and invisible to us. Because he was still half-grown, the becoming smaller wasn't hard for him. Found cats are initially placed in cages in the hope that they can be adopted to a good family. However, if their behavior doesn't improve while in the cages we allow them to roam in De Poezenboot (The Catboat) with the other stray cats where they will feel more secure. Such cats are more cat-cats than people-cats. They don't want anything to do with humans.
So Borre was set free on the boat and that was an improvement for him. He enjoyed himselves: walking around in the boat or watching the birds outside. Sometimes he will even try to catch the birds through the wire meshing! He can get along well with the other cats and shows no aggression what so ever. Borre plays with the other cats. He is more relaxed and is less afraid of humans nowadays. During feeding time he circles around your legs until he is served.
Now he is a big cat. You still can't pick him up but he is more at ease and does not try to escape anymore when we come in. Even when 'unknown' humans arrive Borre stays where he is but sometimes if you get too close he will run away. Borre is content. He plays and walks around on the boat. We will continue taking care of him.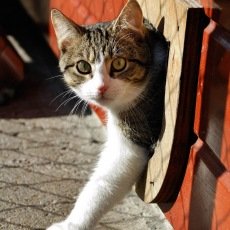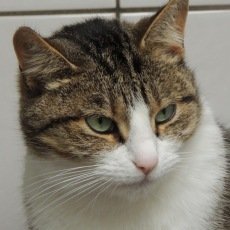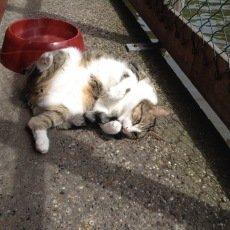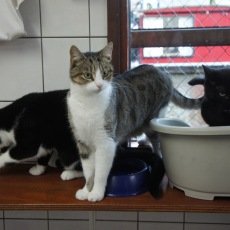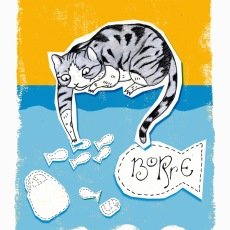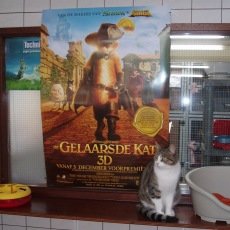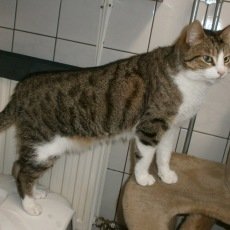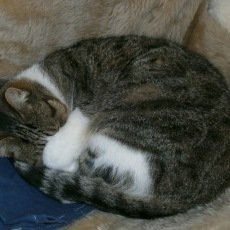 Financial adoption
Click on the following button to donate towards Borre.
In the paypal donation form, please add a note stating the cat you would like to donate.