Fibi is a beautiful white female cat. She doesn't like to be approached and will literally fly away, when you try! She came to us in September of 2016, as the young (approx. 2 years old) foundling mother of a couple of gorgeous kittens. Her kittens weren't as frightened as their mother, so they were quickly placed in loving homes. When thinking of her character, it seems that Fibi was never really socialized or has lived in the wild for some time.
She's not nasty, she's just really frightened of people! She does fine in our group of cats and appears relaxed, as we leave her be. Our little snowy cat loves the other cats, walks around, enjoys the sunshine! Maybe, one day, she 'll surprise us all. Who knows…?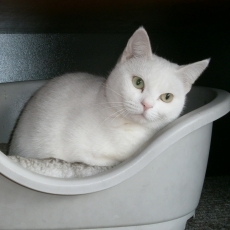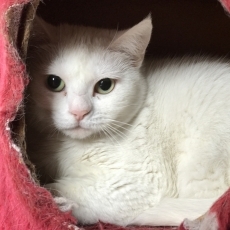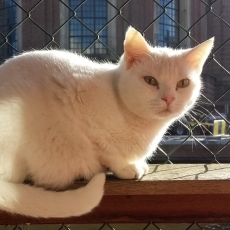 Financial adoption
Click on the following button to donate towards .
In the paypal donation form, please add a note stating the cat you would like to donate.