Riff is a wonderful strong stern black and white ctomcat. When he was found he was approximately 2 years old and brought to us in January of 2018. By the looks of him, he must've been staying outdoors a lot. He's got those distinctive marked ears!
When, at first, in a cage he wasn't too friendly. Later on, we decided to let him walk along with the others, which went remarkably well. No fat tail, no growling noises. He's on his guard but is getting there.
Riff will be okay. He likes to walk in and out and is a lot less scared, come meet this big guy!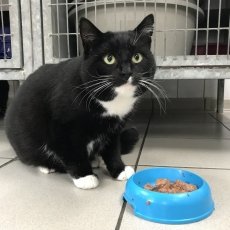 Financial adoption
Click on the following button to donate towards .
In the paypal donation form, please add a note stating the cat you would like to donate.