Fiepje
| | |
| --- | --- |
| Gender: | |
| Color: | tortie |
Colourful Fiepje,
Fiepje was brought to us together with Fanny. They were caught from the garden in the middle of 2018, together with 2 brothers and then estimated to be around 5 months old. They are not used to people and were therefore very afraid of us. Touching and picking up that was really not possible. As soon as they saw us, their ears went flat, their eyes got very big and they made themselves very small. And hope we didn't see them.
In the beginning, new cats go into quarantine, then we see how they react to us and how their health is. In any case all new cats go as soon as possible to the vet. There they are checked, and if everything is okay, they will receive the vaccination and the chip. Castration often happens a little later.
With a lot of patience, time and tact, the fear of people has already become a less. We could even pet Fanny now and then. Fiepje not yet, although she has become much less anxious. Still she does not want real contact with people yet. But when it's 'dinner time' Fiepje is brave, she even asks for food. And sometimes steals the food from the other cats.
Fanny is more social than her sister Fiepje, she usually runs away from you. We have now found a special home for Fanny and she has been rehomed. Fiepje feels great among the other cats and we will see how she develops further.
If you would like to meet her, please give us a call. Then we set a date and show you Fiepje and the other cats. We would like to thank you very much for the financial support you give us. It sounds cliché but it's true: without your support we can't help cats.
Kind regards,
The Catboat team
----
Fanny is rehomed 4-23. By then she was so used to people and not scared that we dared to take the step. The first messages have already arrived and are very good. She and her new cat-friend are doing very well.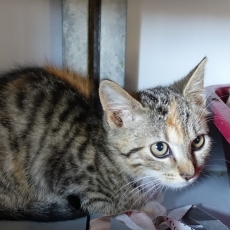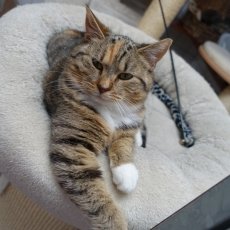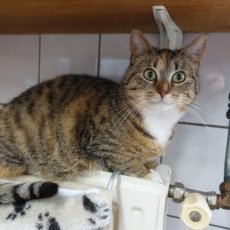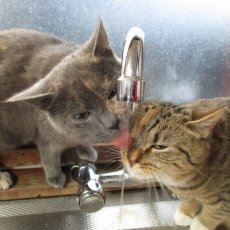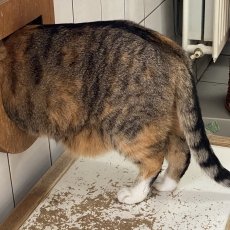 Financial adoption
Click on the following button to donate towards Fiepje.
In the paypal donation form, please add a note stating the cat you would like to donate.