History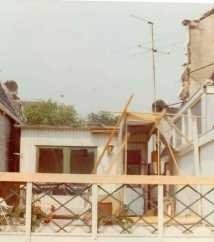 It all began a very long time ago with a mother and her kittens. And a lady who took pity on them.
Her name: Mrs. v. Weelde, and back in 1966 she found the feline family sheltering under a tree opposite her house on Amsterdam's Herengracht canal. She decided to take them in and take care of them. Another stray soon joined them, then another and another... Henriette quickly became known as "the cat lady". People would bring her cats they were no longer able to look after themselves. Eventually they filled her home. Soon there would be no space left. But the cats kept coming. What could she do with them all?


The first 'Poezenboot' - 'Catboat'
The solution turned out to be right outside her front door. If people could live on the houseboats which lined the canals, why not cats? And so came the idea to buy one for them. The first vessel, an old Dutch sailing barge, was acquired in 1968. The interior was stripped and converted into feline-friendly accommodation. And soon the first residents started moving in: cats and more cats. Fortunately they were followed by people who wanted to help love and care for them: our first volunteers.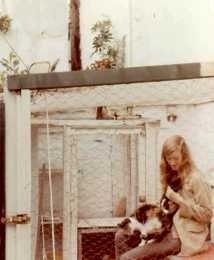 A second boat!
The barge was bursting at the seams after just three years. So a second boat was purchased and fitted out in 1971. By now more people were visiting, too. Not just to bring cats, but also to find a new pet of their own - or simply to take a look. After all, a floating cat's home was something totally unique. The original barge performed sterling service for more than a decade, but eventually had to be retired in 1979. Its replacement was a Dutch houseboat, of a type appropriately known as an "ark". This was specially fitted out to house cats by a shipyard, so it met all our requirements.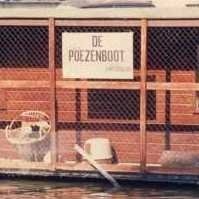 Official status
Nobody back in 1966 could have dreamed that one mother cat and her kittens would begin what was now the world's most famous cat sanctuary. The time had come to make things official.

In consultation with the city authorities, it was decided to register as a charity. That status was achieved on 3 June 1987 with the creation of Stichting de Poezenboot - the "Catboat Foundation". We did not have to think long about the name! Also before we became a foundation, people called us: De Poezenboot - The Catboat.


2001 and beyond
Maintenance. On a big scale! Much more than just a trip to the shipyard to check the hull. No, in 2001 we sent one of our boats for a complete overhaul so that it would meet all the legal requirements for a modern animal sanctuary.
The renovation work was completed in early 2002, after which we could begin fitting out the new interior.
Everything was ready by the end of March, and we did not have to wait long after that for our first resident. Bloemetje - "Little Flower" - arrived on 3 April.
Mrs. Weelde past away
Mrs. Weelde past away on May 21, 2005 at the age of 90. She remained committed to the Poezenboot for a long time. Still the work had to be continued and slowly the baton was handed over to Judith. As a teenager she was already involved in all the work on and around the Poezenboot. When Mrs. v. Weelde was no longer able to come to the Poezenboot, Judith was the link between the two. And also helped her in her private life.
Continue (digital) 2000 in
On 20-9-2003 our first website went up in the air. What an experience: The Poezenboot goes digital. In August 2007 our first real Poezenboot newspaper arrived. From 2010 we went further into the digital age. It started with Twitter, later Facebook and in 2017 Instgram joined.
Also bad news: G.Frankfurter and the ladies van der Stoel and Iping from the District Center and Binnenwater management let us know: the 2nd Poezenboot must be towed away on 20 March 2006. We have tryed 1,5 years to let the District center and Binnenwater management see the usefulness of the 2nd Poezenboot. However, they persisted: cats are not water bound, it has to go! We can not understand it. And now we have to work with half the space. That is very regrettable but af course we will go on.