Orfeas
| | |
| --- | --- |
| Gender: | |
Handsome brave Orfeas
Orfeas was brought to us in June 2021 because he peed outside the litter box. Fortunately, he did well when he was with us so we tried to find a loving home for him. And we found someone, but very sadly: the lady opens her window. And of course you don't open a window if you have a cat, especially not if this cat has just been in your house for a few days.
Orfeas fell down and was taken to Hugo Animal-Clinic. Long story short: his right hip and leg were so broken that the vet decided to amputate his leg. Then the lady didn't want to keep him anymore. So we took care of him.
It was a major operation and a major recovery for Orfeas. Because he was not allowed to lick the wound, he also had a collar on for a long time. He wouldn't eat and we had to force feed him. Luckily he is super sweet so that wasn't a problem.
At a certain point he recovered and was allowed to continue his rehabilitation with one of our volunteers. That went well for a few months and then he started peeing outside the box again. Orfeas is back with us now and hops around, goes where he wants, still has his own place to retreat to if he wants to. This brave fellow is now staying with us. And you can support him.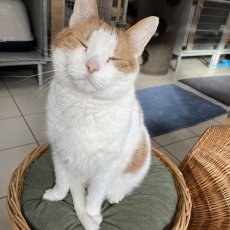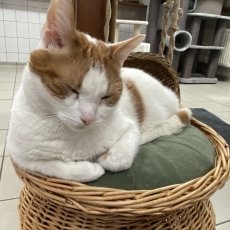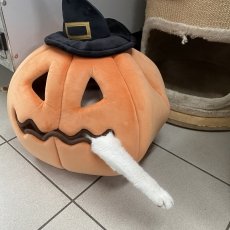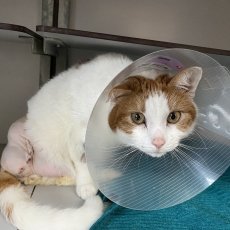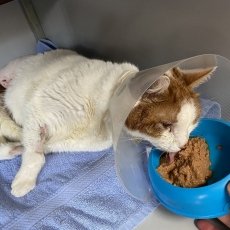 Financial adoption
Click on the following button to donate towards Orfeas.
In the paypal donation form, please add a note stating the cat you would like to donate.